Driving Industrial Efficiency Through
Intelligent Automation
World-leading intelligent automation solution provider
Koidra helps industrial facilities optimize operations, boost yield, and reduce costs through cutting-edge software-based automation technologies.
With Koidra, you'll gain access to
Built on years of machine learning research and industrial control expertise, Koidra's innovative products are tailored to transform your operations and amplify your bottom line.

Rated #1 for
Smart Greenhouse Solutions
We are transforming the greenhouse industry with an unparalleled track record of success.
Explore more
Core solutions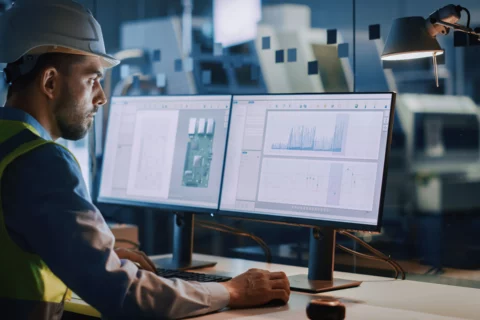 Advanced Operational Analytics

Unlock the potential of comprehensive operational data, real-time insights, and intuitive cloud-based workflows, enabling your operators to make informed decisions.
Explore DataPilot
Intelligent Automation Decisions
Seamlessly shift to KoPilot mode, significantly boost manufacturing yield, and cultivate continuous improvement in operational efficiency.
Explore KoPilot
Request a Demo
Talk to our specialists to find out how
our solutions help optimize your ROI
Case studies
We have successfully deployed our comprehensive automation solutions to address various customers problems, across agricultural and manufacturing sectors.
All case studies
"The solution that Koidra is offering is very customized to the specific grower. We've seen that even internally as we move from range to range. In every space that we go to, they've done a great job of being able to roll out their system and find a solution that works well for the setup that we have."
"Soli Organic is also adopting advanced technologies based on artificial intelligence (AI) and machine learning (ML), which will allow its indoor farms to run autonomously. These technologies do not replace human growers but rather elevate the complementary strengths of humans and machines. Soli Organic is partnering with AI and Internet of Things (IoT) company Koidra to enable growers to make data-driven decisions using state-of-the-art machine learning."
"We have worked closely with Koidra on this project and the results so far are very promising. The autonomous growing technology can transform the way we grow crops in greenhouses. By centralizing data from multiple sources and adjusting growing conditions in real-time, we are able to optimize plant growth, fruit production and improve energy efficiency. It's exciting to witness how this technology is transforming the greenhouse industry. It holds a great potential for future greenhouse crop production"
"Koidra's dashboard visualizes the plant's condition and real-time performance, enabling me to monitor it remotely. Thanks to up-to-date insights, I can lead cross-function teams, improve processes in a timely manner, and make data-driven business decisions."
Optimize manufacturing facilities Koidra's way
Our partners

Subscribe to our newsletters
to stay on top of the industry.